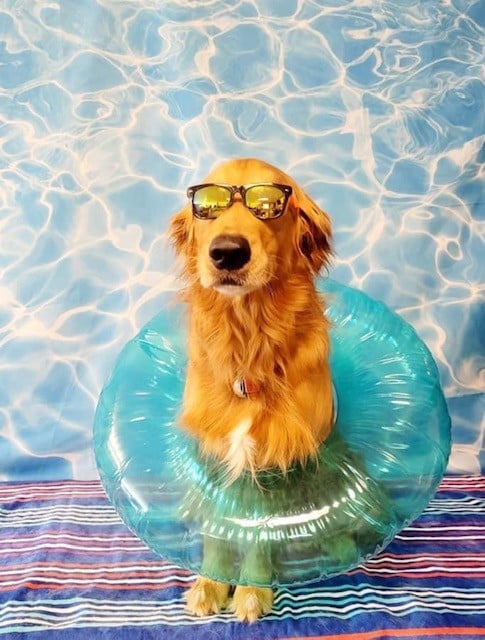 Scrolling through FaceBook recently I saw this adorable Golden Retriever in a pool sporting sunglasses and an intertube.  The caption read:  "Ready for the dog days of summer!"  It got me thinking about what that really means – Dog Days of Summer? I learned (by Googling of course) that the hottest days of summer from July 3 to August 11 are associated with the dog star Sirius, the brightest star visible from any part of earth.  It is part of the constellation Canis Major, the Greater Dog.  Since the ancient Romans believed Sirius gave off heat and actually added to the warmth of the sun, they called this period the "dog days".

As I am writing this, we are fast approaching the dog days of summer. I invite you to reflect what you were doing last year at this time. Trey Kennedy, a comedian who has kept me laughing in the midst of the pandemic, just released a video entitled "Summer 2020 vs. Summer 2021". In this parody, he acts out different scenes from both years on topics such as quarantining, mask wearing, food delivery vs. eating out, weddings then (many cancelled) vs. now, and drive by birthday celebrations vs. in-person parties. The Kennedy in 2020 screams, "This is the worst summer ever!" while in 2021 he joyfully coins the phrase "Vibes are Up!" My favorite part though is when he is on a Zoom call with his grandmother in 2020 who doesn't understand the technology (and probably hadn't left her house in months) vs. 2021 Kennedy excitedly calls his Gram Gram to come over to make her famous cookies!

All of this got me thinking about our seniors and the opportunities we have this year vs. last. What are some activities that will help make this summer the best one yet for the elderly, especially after many have been confined or isolated with little social interaction? Community events (fireworks or the grandkids' soccer game), movies at the theater, swimming, or eating out to name a few. Many live in retirement, assisted living, and nursing facilities, and we are seeing them "opening back up" with entertainment and visitors. Keeping safety in mind at all times – health (COVID protocols), hydration, and heat precautions, it's time for our seniors (and US!) to enjoy the dog days of summer again. As Trey Kennedy says, "Vibes are Up" – let's make the most of it!

For those of you in healthcare and to family caregivers as well, thank you for all you are doing and have done to care for our seniors during this unprecedented time!!